Drive Business Growth with Data Control and Ownership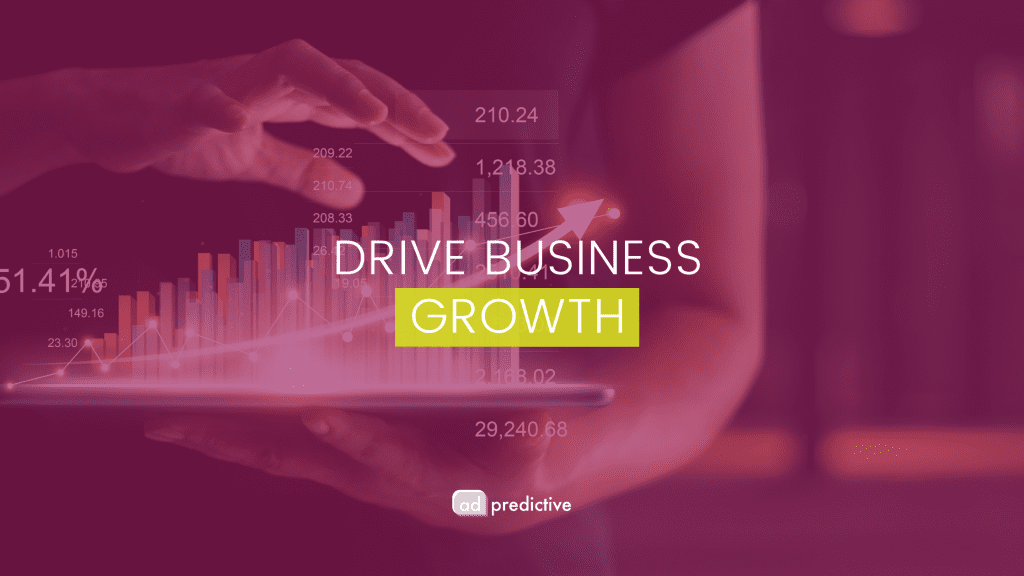 Advertisers are investing heavily in technology that allows them to own, understand and utilize audience data to fuel customer-centric initiatives. With access to customer intelligence, brands are empowered to understand their customers on a deeper level and more effectively drive consideration, purchase and loyalty. Subsequently, choosing the best tech partner and knowing the steps to control and own consumer data that will drive business growth is the key to success.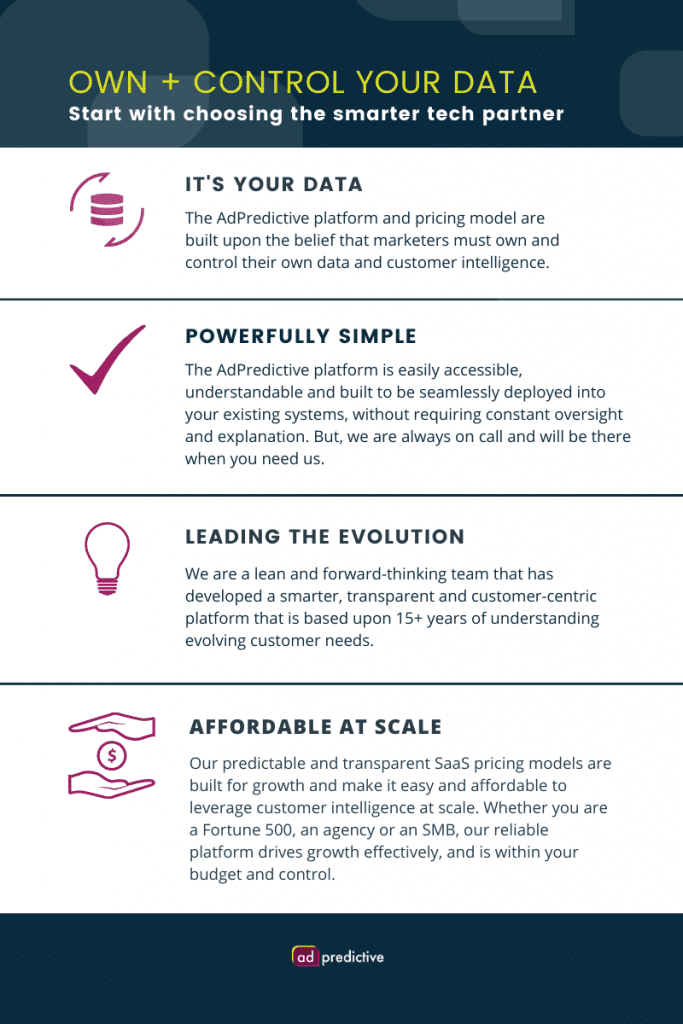 Access insights + data
To truly understand who their consumers are and how to best engage with them, CMOs are moving away from the "black box" mentality. At AdPredictive, we couldn't be more on-board with this shift and believe the best starting point is to link 1st-party data to 3rd-party data at the ID level. This produces actionable, scalable insights and activation options.
The AdPredictive platform allows our clients to upload anonymized 1st-party data, pair it with 3rd-party attributes and receive ID-based audience summaries with actionable data points. The summaries provide clients with a comprehensive profile of demographics and TV viewing habits to definitively pinpoint current and/or new audiences.
Achieve brand growth with data control
Setting a foundation of ID-based audience understanding immediately makes a positive impact on creative messaging, content development and media budgets. Scalable brand growth is the next step, made possible by controlling how and where your audience data is leveraged. IDs of your target audience – or look-alikes of your audience – can and should be ported to whichever media types and placements are most efficient and effective. As we all know, you can't do that if the data is proprietary and lives in a "black box."
At AdPredictive, we want to encourage the use of ID-level data and believe our clients should own their data – not just the insights.
We operate under this principle in our own business and offer clients the ability to export IDs from audiences built in the platform. Plus, you can experience the benefits of 1st-party IDs hydrated with our proprietary Smart Attributes – combining the power of up to 30+ data providers in each attribute to drive powerfully simple business intelligence. Finally – data that reduces costs, opens the door to eliminate data biases and helps you break free of reliance on a single data partner. With transparent access to ID-level consumer data, we're empowering brands to grow much closer to their customers than ever before.
The bottom line is that AdPredictive value extends far beyond our data. The AdPredictive platform and pricing model are built upon the belief that marketers must own and control their own customer intelligence. We help brands drive business growth with client control and data ownership as the new standard.
Data that you don't own, don't understand and can't afford to use is not customer intelligence. There is a smarter way. You deserve better. Take charge with AdPredictive.