SVP Client Success Rachael Pegg Selected for Greater KC Chamber of Commerce Leadership Program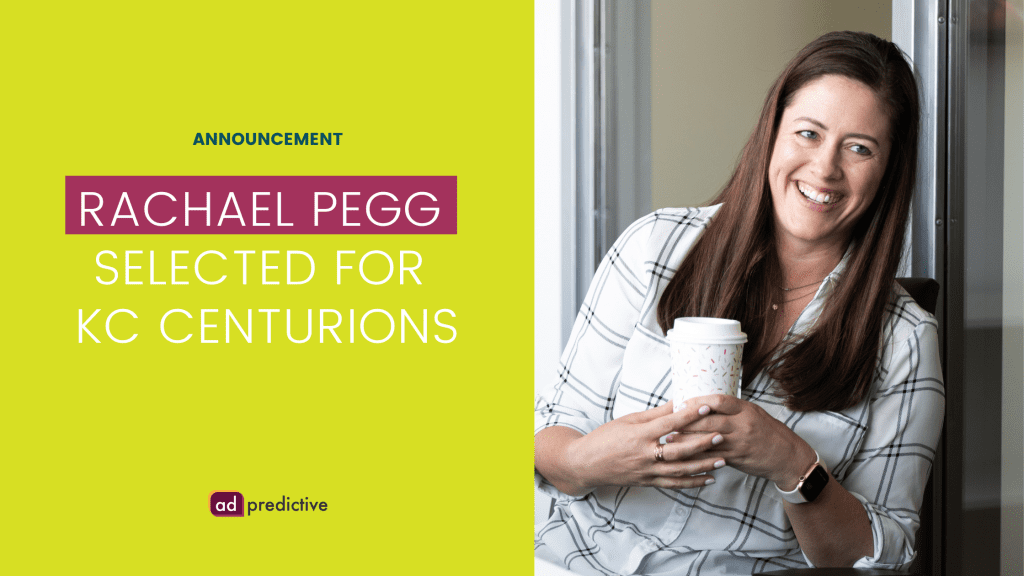 The AdPredictive team is excited to celebrate an exciting new pursuit by one of our own. Rachael Pegg, SVP Client Success, has been selected for the Greater KC Chamber of Commerce Centurions leadership program. She is one of only 43 Kansas Citians selected for the Class of 2023.
Since 1976, the two-year leadership development program has prepared greater Kansas City's emerging leaders for roles including judges, CEOs, and nonprofit executives. Centurions is an unequaled training ground for future leaders.
An undeniably valuable addition to this prestigious program, Rachael excels in strategic leadership and tactical blueprints for achieving operational excellence. Through close partnership with AdPredictive's sales and technology teams, she drives thinking beyond the status quo to turn obstacles into opportunities and communicate a clear path to achieve objectives on behalf of our clients.
"Rachael excels as a leader both in our organization and in the community," said Ali Burnham, AdPredictive Chief Operations Officer. "We're very proud that she was chosen for this honor and so grateful to have her guiding and shaping the AdPredictive team."
"Rachael's talent is matched only by her heart. She is a civically-minded leader who gives in ways that are both meaningful and selfless," said Dan Carroll, AdPredictive Founder and Chief Strategy Officer.
"Whether she is speaking on a panel about women and leadership, raising funds for children's healthcare or communicating our company's latest technical innovation to a global media company, Rachael is that critical element that makes it all work. She brings people together, builds them up and guides them to their best selves. May our city be so lucky to have more people like her engaged as leaders of our collective future."
Join us in congratulating Rachael on this incredible achievement!