Simple Tricks for Making Sense of Too Much Data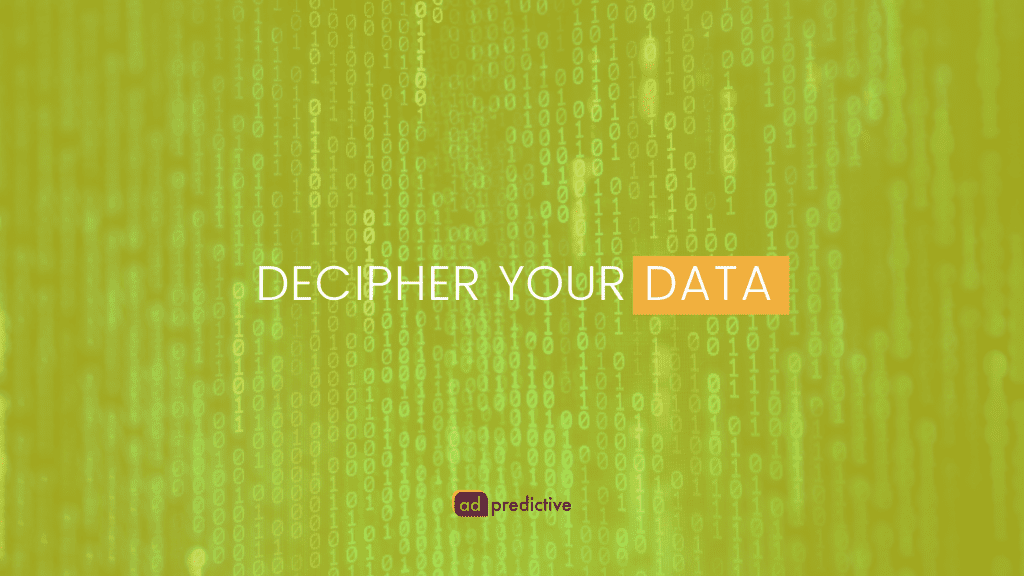 How often do you look at a dashboard and promptly zone out? Even the most metric-minded of us can easily be cognitively overwhelmed by too much data. When the metrics, measures and charts are on overload, the instinct becomes to avoid them instead of absorb their wealth and insight.
We've been there. Man, have we been there. The foundations of the AIM platform were built on solving that exact feeling – the freeze up. Over the years, we've even seen those massive quantities of data overtake our own systems and lock countless buyers in a panic of zero action. So, we flipped everything on its head. How could we approach "too much" and make it "just enough?"
The solution became our mantra: make it understandable and make it actionable.
Make it understandable
If you want to build a puzzle, what do you do? Most of us study the front of the box, open it up and organize the pieces face up so we can examine how they fit together. Sometimes, you group them by color or texture or organize the edge pieces first to give your puzzle context.
The process to understanding exceptional quantities of data is wildly similar.
We approach our analysis with a base of no fewer than 6 core data sets – each referencing thousands of audience and media attributes. Then, we layer in as many as 25 additional third-party data sources with thousands of data points of their own. In any moment, we can examine theories across 30,000+ metrics and billions of records. At this point, the insights we can arrive at are virtually endless – and we haven't even started to introduce first-party client data and attribution tracking to the mix yet. As client data enters the fold – we unlock a powerful blend of centralized first- and third-party data analysis paired with expert human insights.
Let's stick with that puzzle analogy:
We centralize the data the same way we open up the puzzle box and gathered all the pieces.
Linking those data points and allowing them to communicate gives us the power to flip all the pieces face up so we can see what we're working with across the table.
Analyzing data points across all sources is the beginnings of snapping the pieces together. We start with the low-hanging fruit – the edges – then work our way to the more advanced textures and solid colors.
All while we're sifting through data, we can see the road map of where to go. Instead of the face of the puzzle box, we aim to point the data at achieving key business objectives. The result is the completion of the puzzle as efficiently as possible.
With all of that build up, we still have to make our pieces make sense.
The finished puzzle conveys a message: a beautiful photo, a fun scene, a work of art, a game or challenge. All of the pieces together reveal a story. The same is said for data within AIM. As we tie attributes together, we reveal trends and storylines for audience and media engagements. To make it understandable, we present it in the same single visual you see after completing a puzzle – one simple view created from thousands of tiny elements. No single element alone is as powerful or informative as the whole view, so we optimize what you see to ensure it's the most valuable resource available. The wasted days of diving deep into the trenches of data are behind you – see the entire picture with clear understanding of the pulse of your campaigns.
Make it actionable
To say that it isn't commonplace to look at data and do nothing with it would be a severe understatement. When data overwhelms, a glance is all it takes to numb experts and laymen alike. Our team realizes that the actions taken on data are a critical component of data impact, value and success in a workspace. So, we established our own private challenge to make data as actionable – always.
What does that mean, though? A scenario:
We give you a stat about the media viewing habits of puzzle addicts – they're highly likely to watch Wheel of Fortune during prime time, after all. That information is excellent, but what do you do with it? Instead of dropping a stat and leaving you no place to run, we give you your next step.
"Your target audience of puzzle addicts religiously watch prime time episodes of Wheel of Fortune on broadcast television. Historically, you attempt to reach this segment during daytime hours. Adjust the day parts in your buy to minimize 30% of wasted spend."
That feels pretty good right? Not only do you have the insight, but you also have the historical foundation for the decision along with the action that should be taken to realign media and audiences in your plan. We've effectively taken billions of pieces of data and summarized a key trend in the length of a tweet – that's both understandable and actionable.
Applying that actionable data to your business takes some additional forethought and coordination. Involving agencies, empowering internal teams and ensuring the recommended actions are present in the execution of your strategy may invoke an evolution of your processes. You're not alone. In arriving at the opportunity for new efficiencies, we often see teams adjust communication and flow to prioritize the business objectives. With that in mind, AIM also accommodates workflow, tasks and messaging as they relate to media strategy. Constant open collaboration between the brand, agency and our own data experts ensures that all parties receive actionable insights and the support needed to actually take action.