AWS Adam Solomon, Global Head of Data Collaboration on BOSS Podcast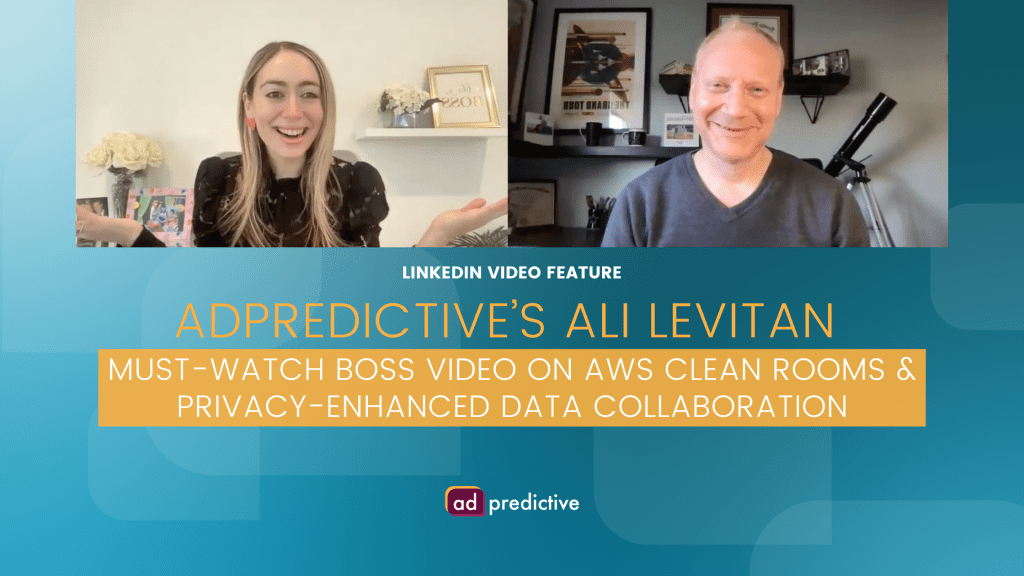 This month's BOSS episode with AWS's Adam Solomon and AdPredictive's Ali Levitan is a must-watch. Adam and Ali share their experience from this year's AWS re:Invent and the exciting announcements of AWS Clean Rooms and Privacy-Enhanced Data Collaboration. Adam details how the new AWS Advertising & Marketing Initiative helps customers across 5 solution areas: Audience & Customer Data Management, Privacy-Enhanced Data Collaboration, Ad Intelligence & Measurement, Ad Platforms, and Customer Experience. Ali and Adam also talk about how the new and exciting AWS Clean Rooms help advertisers and marketers more easily and securely analyze and collaborate across their datasets without compromising security.
Watch to learn more about how these announcements transform how data is collected, analyzed, and used to improve marketing performance.
BOSS EPISODE: 12/07/2022 Adam Solomon, Amazon Web Services
AdPredictive is excited to be featured as an AWS Advertising & Marketing Partner with the launch of our 360° customer visualization solution that enables real-time customer composition insights for faster, smarter decision-making. Ready to unlock the power of clean rooms? Access AdPredictive for real-time visualization of your data within the AWS Clean Rooms here: https://adpredictive.com/aws/