Joining the Ad Council's Leadership Council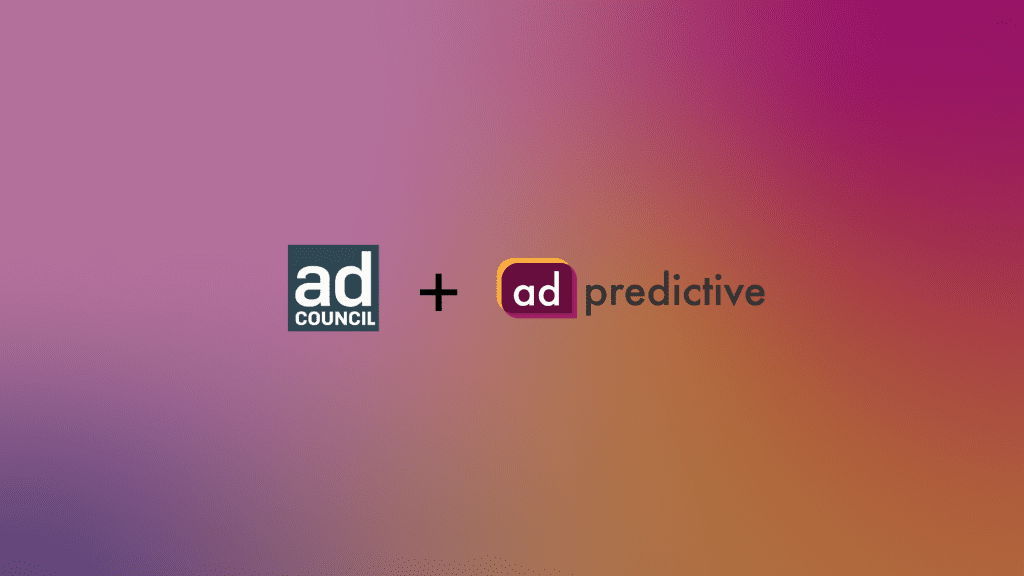 In October, Lisa Sherman, President and CEO, Ad Council, America's leading non-profit organization dedicated to using communications to drive social change; announced the organization's newly elected Board of Directors and Leadership Council.
To say that I was honored to be asked to represent AdPredictive and serve on the Leadership Council alongside Colle McVoy, Uber, Starlite Media and Kargo; is an understatement.
The Ad Council shines a light on Diversity & Inclusion initiatives to Teen Bullying Prevention, The Truth About Opiods, Empowering Girls in STEM, and many, many others; the Ad Council is genuinely trying to improve our world across many of our company's shared passions. The organization is comprised of extraordinarily loyal members who are truly dedicated to the 40 causes it supports. In many ways, I believe the Ad Council represents the best of the industry. It's the place where our professional and personal worlds collide.
At AdPredictive, we build software that connects data to strategic business outcomes. We work with media companies and large tech enterprises; but we also focus on improving our communities. Our team continuously seeks opportunities to positively impact society at any scale – serving meals at shelters, cleaning up streets, guiding bright young minds, volunteering at animal shelters, assisting Veterans or applying our insights to effectively end homelessness in Kansas City, our original headquarters.
With that commitment to community being such a fundamental piece of our business, joining the Ad Council was natural for me. I'm fortunate that my professional and personal worlds collide daily at AdPredictive; now, as part of the Leadership Council, I can help to create a greater impact on a national scale.
Here's the full press release. The new members are listed below, and some of the coverage on the Ad Council's new board can be found here.
The Board is chaired by Linda Boff, Chief Marketing Officer of GE.
New members of the Ad Council Board of Directors include:
Kasha Cacy, Global CEO, Engine
Lisa Caputo, Executive Vice President, Marketing, Communications and Customer Experience, The Travelers Companies, Inc.
Lisa Donohue, CEO, Publicis Spine
Ernestine Fu, Chairman, Gfycat and Venture Partner, Alsop Louie Partners
Amy Fuller, Chief Marketing & Communications Officer, Accenture
Jill Gregory, EVP & CMO, NASCAR
Nick Law, Chief Creative Officer, Publicis Groupe, and President, Publicis Communications
Kristin Lemkau, CMO, JP Morgan Chase
Lynn Lewis, President, East Coast and Global CMO, UM
Erin Madorsky, Chief Revenue Officer, Verve
Elizabeth McCune, Chief Growth Officer, GroupM Global
Kirk McDonald, CMO, Xandr
Nicolle Pangis, CEO, NCC Media
Sean Reardon, CEO, Moxie, MRY and Zenith USA
Hayley Romer, Chief Revenue Officer & Publisher, The Atlantic
Lindsey Roy, CMO, Hallmark Cards
Erica Schmidt, Global CEO, Cadreon
Valerie Vargas, SVP, Advertising & Creative Services, AT&T
Tiffany R. Warren, Chief Diversity Officer, Omnicom
Danielle Weisberg, Co-Founder & Co-CEO, theSkimm
Tony Weisman, CMO, Dunkin' U.S.
Jennifer Witz, EVP & CMO, SiriusXM
The Leadership Council is chaired by Harry Kargman, Founder & CEO of Kargo.
New members of the Ad Council Leadership Council include:
Dan Carroll, CEO, Founder, AdPredictive
Christine Fruechte, CEO, Colle McVoy'
Harold Lueken, CEO, Starlite Media
Kate Parker, Head of Safety & Insurance Brand, Uber