Always Transparent: How Our Company Culture Became a Game-Changer Across Industries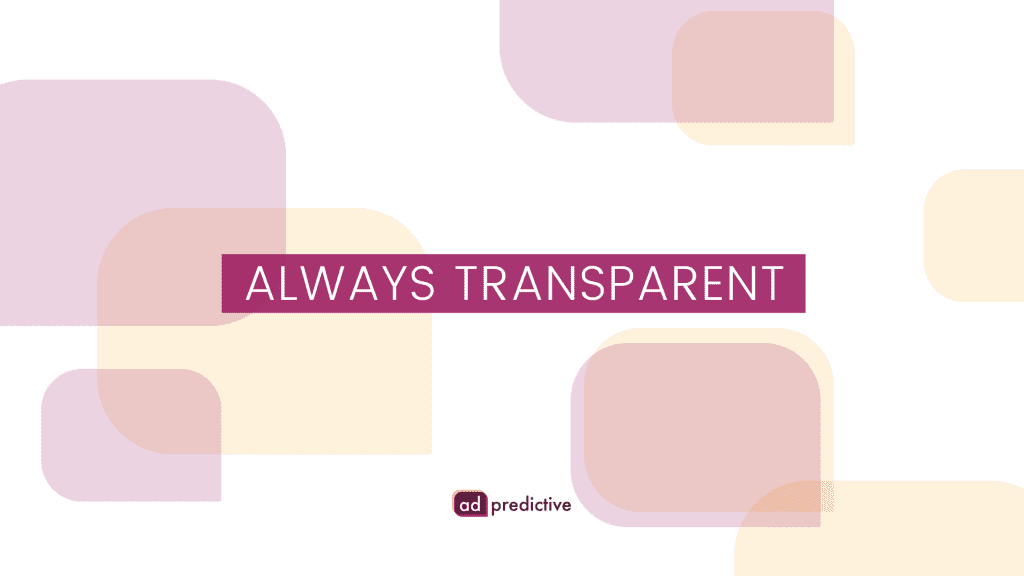 Let's be honest – it's incredibly rare to get raw, unfiltered, honest transparency in today's business world. We hear it too often: fly-by-night technology companies spin up quick concepts, spam them to teams facing challenges, fail to deliver, then leave everyone high and dry without answers. We're not about that life. So much so, radical transparency has been fundamental to our company culture since Day 1…18 years ago.
Today, AdPredictive helps marketers to easily access data, reveal audience insights, determine campaign plans, optimize, activate and generate follow-up reporting with more transparency than has ever been available before. We work hand-in-hand with clients to understand their needs and processes – then deliver workflows, visualizations and automation with extreme clarity into how the system works, why certain results rise to the top and what we're doing behind-the-scenes that makes the whole thing so reliable.
The transparency available in our business and technology has been core to the evolution of our company over the past 18 years. Startups don't typically hang around this long – but we've established incredible relationships with our clients based completely on their trust in us and understanding of how the technology functions. Our longstanding reliability and success while catering our tools to the market have guided us to where we are today: leading the evolution of marketing.
What's here and on the horizon for transparency in marketing, data and processes?
Understand the data. Not only can you see trends revealed by your data, but transparency means you'll know why those trends exist at a glance. The future of understanding is multiple layers deep: understand the data, understand why and understand the sources and context that may fundamentally impact the result. We firmly believe this should never be swept under the rug.
Know your ROI. Cut out the black boxes and see the full impact of your campaigns. Marketers traditionally run campaigns that, shockingly often, don't have the data and reports to truly know the return on investment. We think that's wrong. Every marketing dollar recommended for investment should not only be smartly optimized, but should be tracked, reported and fed back into the data pool to create greater efficiency in the future.
Predict results. With the proper context for how the data and algorithms work together and with a clear feedback loop reporting the results of previous campaigns, marketers can realistically begin to predict the results of future campaigns. Of course, the tools you're using have to be easy to use, easy to understand and then easy to implement. We don't think the market has effectively solved for that yet – which is why our clients and their industries have been working with us to move toward prediction.
Time and time again, we've seen how transparency – especially radical transparency – is a game-changer for businesses and the industries they work within. We're thrilled to be the open, honest and clear solution for those businesses and are excited to reveal new, even more transparent innovations in the year ahead.