AdPredictive Names Kristin Frank as First President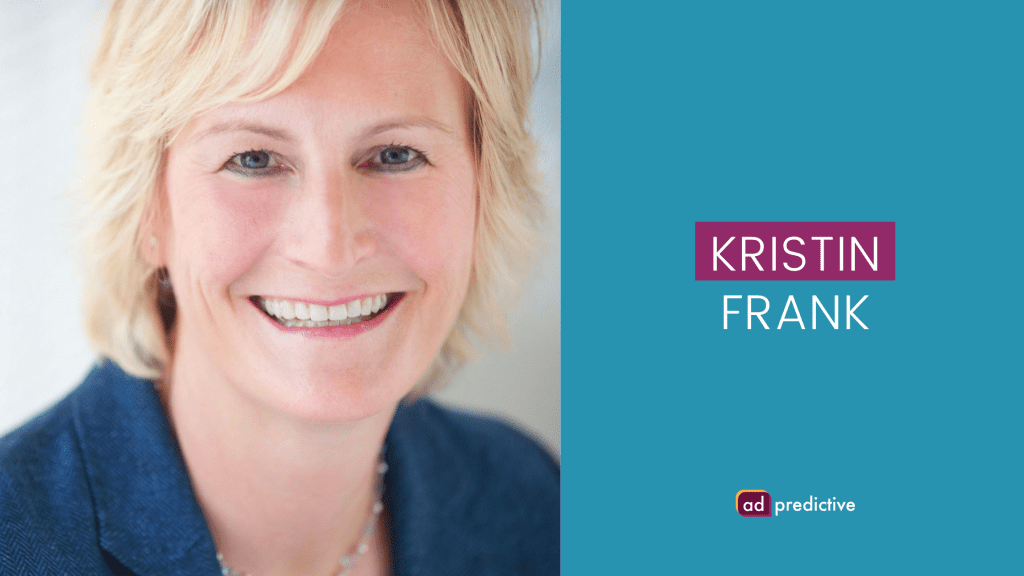 Seasoned Media, Tech and Financial Exec to Usher in New Age of Customer Marketing Intelligence
NEW YORK–(BUSINESS WIRE)–AdPredictive, a fast-growing software company delivering the industry's first outcomes-driven customer marketing intelligence platform, announced the appointment of Kristin Frank, a long-time senior Viacom executive, as the company's first President.
Kristin joins the company at a critical time in the business. As marketers demand transparency industry-wide, AdPredictive maintains a growing roster of innovative brands that have uncovered exponential value from the company's powerful technologies. In her role as President, Kristin will maximize that growth as the leader of strategy, operations, sales, marketing and customer success. She will retain her AdPredictive board seat, which she has held since early 2018.
"Kristin's unparalleled track record pioneering growth strategies was an obvious match for AdPredictive," said Dan Carroll, Founder and CEO, AdPredictive. "She is a well-respected, highly-experienced industry thought leader and transformational executive with more than 20 years of experience in media and digital. Her leadership will be critical as we usher in a new age of intelligence, transparency and impact for marketers across media, retail, travel and hospitality."
Before joining AdPredictive, Kristin spent 23 years at Viacom, most recently as Chief Operating Officer of MTV. In that role, she oversaw revenue, strategy and operations for a $1.8B portfolio while spearheading the turnaround, brand reinvention, digital innovation and market growth for MTV. Previously, she was EVP, Viacom's Music and Entertainment Connected Content Division, where she transformed consumer product, data, engineering and content resulting in a doubling of revenue. Kristin also served as General Manager for MTV and VH1 Digital and was instrumental in MTV's growth to 210M social media fans and doubled traffic to its digital platforms. Before MTV and VH1, she was Chief Operating Officer of LOGO TV where she launched and built a powerful new media business.
"The industry is at a crossroads and, in this game-changing moment, our technology is empowering marketers to make strong business decisions from data," said Kristin Frank, President, AdPredictive. "With an impressive business model, client roster, talented team and clear vision – joining this movement to shape the future of marketing with AdPredictive was a straightforward decision."
AdPredictive's vision is to solve an industry-wide problem — the lack of transparency and control in media strategy. Today, the company is home to powerful software that helps brands, agencies and media companies identify a clearer path to efficiency and impact on business outcomes. Kristin's rare background spanning data, analytics, strategy, finance, revenue and operations gives the already-powerful team an advantage as the industry moves quickly toward transparency and action driven by machine learning and AI.
Kristin continues to serve on the Board of Directors of Brightcove (Nasdaq: BCOV), Gaia (Nasdaq: GAIA), Cornerstone Capital and AdPredictive. She previously served on the Board of Directors of Gaiam before completing the sale to Sequential Brands in July 2016.
Kristin has been honored as Variety's Power Women of NY, one of the Most Powerful Women in Cable, and the Top Women in Digital: Corporate Visionary Award. She was chosen as a Top Mentor 2018 Comcast:Techstars.
About AdPredictive
AdPredictive is a fast-growing software company empowering the world's largest brands to impact business outcomes using data-driven technology and customer marketing intelligence. Brands including Discovery Inc. have leveraged AdPredictive for media accountability, automation and attribution at the vanguard of the multibillion dollar movement toward transparency in media strategy. With distinct optimization for ROI metrics such as cost per acquisition or lifetime value, AdPredictive has been proven to improve media spend efficiency by as much as 54% – giving marketers the power to drive unprecedented impact to the bottom line. Visit www.adpredictive.com for more information.