CEO Kristin Frank Tells Multichannel News What Drew Her to the Fast-Moving Technology Changing the Marketing Industry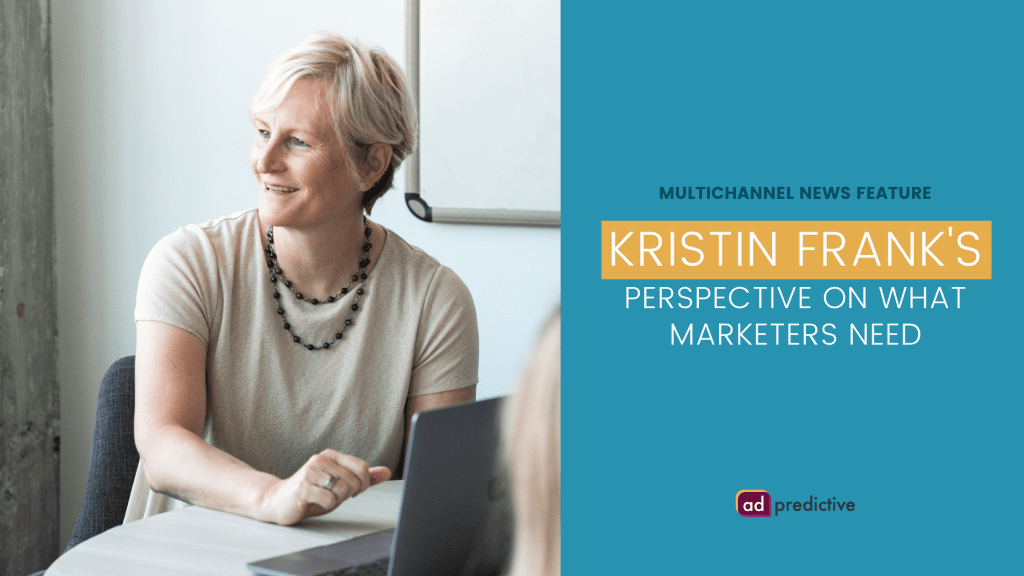 Why did CEO Kristin Frank leave her long-time position at the media giant Viacom to work at the helm of customer marketing intelligence company AdPredictive?
Multichannel News veteran reporter Mike Farrell uncovers this and more in a recent interview with Frank for the publication's "Five Spot" column, which regularly features insight and information from media industry insiders.
"What hooked me was how the company solves the industry's hard problems with solutions that I had wished for in a partner when I was at MTV," she explained to Farrell. "Today we are working right alongside our clients to lead the evolution of marketing."
She goes on to explain the advantages of using customer intelligence data vs. cookie-based data: "AdPredictive has been cookieless for almost a decade, working with primary unique identifiers such as hashed emails, IP addresses and mobile device IDs. Third-party cookies served a (clunky) purpose for a time but we knew marketers would need a smart, effective alternative; so the platform was built with the ability to work universally."
Responding to Farrell's inquiry about Google's plan to eliminate third party cookies, she notes that with or without Google, AdPredictive's philosophy is guided by a deep belief that marketers must own and control their own data and customer intelligence. This is what drives the company's core value of transparency, and engenders such strong customer loyalty.
"With or without Google, our belief has remained the same – marketers must own and control their own data and customer intelligence," she states in the interview. "It is risky for any business to wait and smart marketers like the ones we have the pleasure to work with are fully taking the reins of their marketing strategies and the data that informs them… which means that we'll start to see more advancements in the areas of automation, optimizing for business outcomes and machine learning injected across the marketing cycle."
On the matter of the upcoming merger between long-time AdPredictive client Discovery Inc. and WarnerMedia, Frank expands, "Discovery has committed themselves to a strong, open and reciprocal relationship with their viewers, and that is evident in the work they do to understand and connect with their audiences with the help of AdPredictive intelligence."
Read the full article here to learn more about Frank and her perspective on the most effective application of customer intelligence data to the media industry.
Explore our website to learn more about how we support our clients with data and intelligence to better understand their consumers and drive smarter marketing in a cookieless world.