Long-time Senior Viacom Executive Named AdPredictive President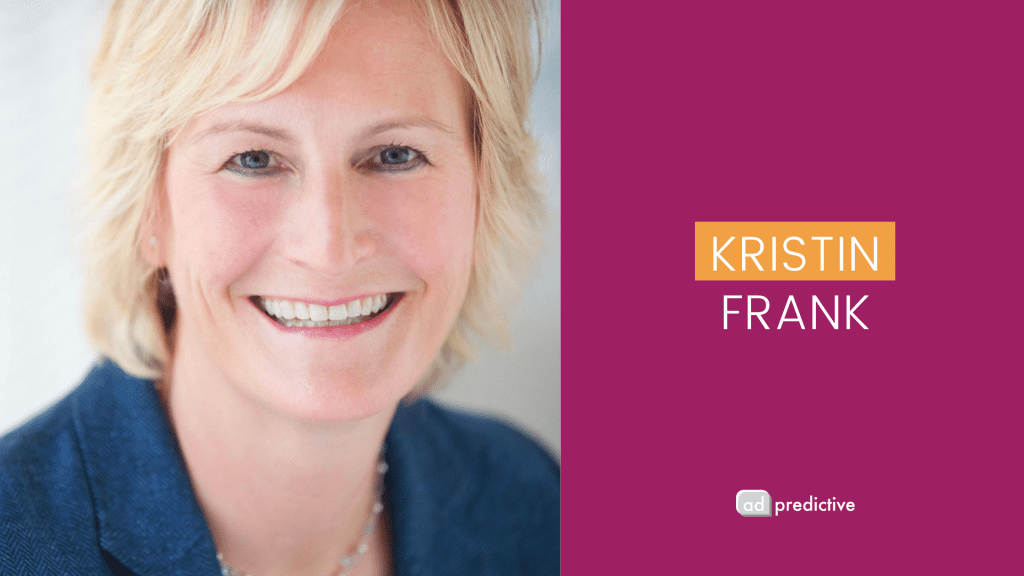 Today we are pleased to announce the appointment of Kristin Frank, a long-time senior Viacom executive and AdPredictive Board Director, as our company's President.
In her role as President here, Kristin will maximize that growth as the leader of strategy, operations, sales, marketing and customer success. She will retain her AdPredictive board seat, which she has held since early 2018.
Kristin brings a deep knowledge base and strong experiences into AdPredictive. Before joining our company, Kristin spent 23 years at Viacom, most recently as Chief Operating Officer of MTV. In that role, she oversaw revenue, strategy and operations for a $1.8B portfolio while spearheading the turnaround, brand reinvention, digital innovation and market growth for MTV. Previously, she was EVP, Viacom's Music and Entertainment Connected Content Division, where she transformed consumer product, data, engineering and content resulting in a doubling of revenue. Kristin also served as General Manager for MTV and VH1 Digital and was instrumental in MTV's growth to 210M social media fans and doubled traffic to its digital platforms. Before MTV and VH1, she was Chief Operating Officer of LOGO TV where she launched and built a powerful new media business.
"The industry is at a crossroads and, in this game-changing moment, our technology is empowering marketers to make strong business decisions from data," said Kristin. "With an impressive business model, client roster, talented team and clear vision – joining this movement to shape the future of marketing with AdPredictive was a straightforward decision."
Marketers want more and not just more data, but something to make this data more actionable and uncover insights. Our vision is to solve an industry-wide problem — the lack of transparency and control in media strategy. Today on our platform, we are harnessing this data, while helping that helps brands, agencies and media companies identify a clearer path to efficiency and impact on business outcomes. Kristin's rare background spanning data, analytics, strategy, finance, revenue and operations gives the already-powerful team an advantage as the industry moves quickly toward transparency and action driven by machine learning and AI. Her leadership will be critical as we usher in a new age of intelligence, transparency and impact for marketers across media, retail, travel and hospitality We're so excited to welcome Kristin to the team and ready to continue empowering the world's largest brands to drive unprecedented impact to the bottom line.
See the full press release on BusinessWire.
Want to learn more on how AdPredictive can modernize your media strategy? Request a demo below.