Clear Channel Outdoor Discusses Clean Rooms and AdPredictive on BOSS Podcast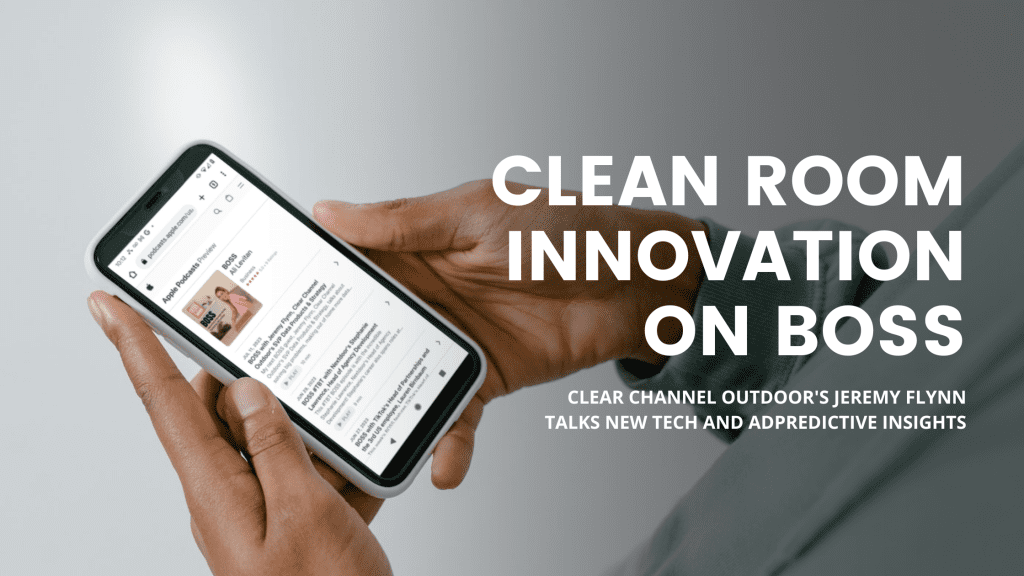 Jeremy Flynn, Clear Channel Outdoor's SVP Data Products & Strategy, joined Ali Levitan, AdPredictive EVP Business Development and host of BOSS, to discuss innovation and media on the latest episode of the BOSS podcast. Naturally, that meant they dove into the latest Clear Channel Outdoor and AdPredictive collaboration powered by AWS Clean Rooms.
In the quick 10-minute show, the pair cover a lot of ground:
Solving big problems
Making out-of-home media more data-driven
Trying new innovative solutions
The importance of happiness
Jeremy's earlier career in startups
Watch and listen now
Clear Channel Outdoor is a launch partner for AdPredictive's Customers 360 – gaining unique insights from 1st and 3rd-party data sets via a direct integration with AWS Clean Rooms. Jeremy and Ali talk about how it's critical for brands and advertisers to be able to use their 1st-party data in a privacy-safe manner through clean rooms and how this trend will continue to accelerate.
---
---
Our favorite take-aways
At Clear Channel, Jeremy is "breaking into a 100-year-old company and trying to innovate and disrupt."
He's been actively trying to "do things that just didn't exist before as solutions" with people that are "trying to solve problems that were not yet quite solved."
He's one of the minds leading the industry toward a "more collaborative advertising ecosystem."
Obviously, we're fans of Jeremy and Clear Channel Outdoor after the work we've done together to "enhance [their] audience planning capabilities in out-of-home" while uncovering "the best ways to use each other's data to make out-of-home be more part of the media mix for brands and advertisers."
Gaining marketing insight through the AdPredictive and AWS Clean Rooms integration was important to him because it allows for "brands and advertisers to use the data they want to use to power their own marketing campaigns while, at the same time, respecting the privacy of the consumers that we're trying to reach with those advertising campaigns."
"This is going to be a trend that continues."
And that's just in the first 4 minutes. Hear the whole interview on Apple and Spotify now.
Ready to learn more?
Don't miss our Clean Rooms 101 white paper for more info on what clean rooms are, the value they bring to the table, and how your team can get started today.