Audience Oversaturation Leads to Extreme Waste in Media Buys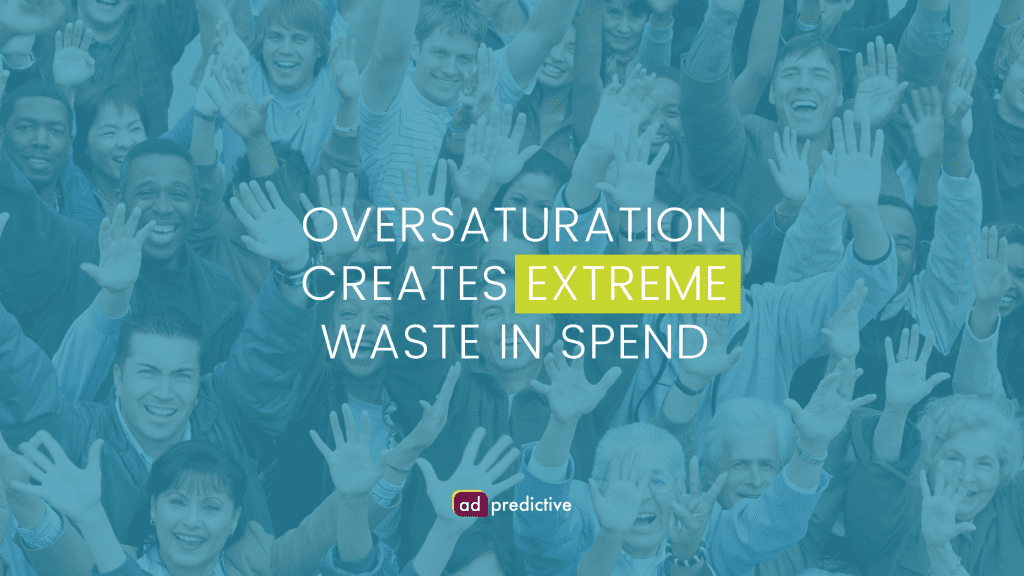 In any campaign, advertisers must achieve balance in the media buy to successfully reach and convert audiences while maintaining a positive experience for target users. The creative, ad placement, ad frequency and other targeting parameters must all work in tandem to spotlight the brand or product without causing audience fatigue, mis-targeting or failure to convert. The balance is delicate.
In examining recent campaigns, our data experts uncovered shocking trends showcasing just how prominent oversaturation of audiences can be – regardless of media, industry or brand vertical.
"When we begin tracking campaigns with new brands and agencies, it's common to see that oversaturation of audiences largely contributes to overall wasted spend," said Andi Hubbard, VP of Tech and Data at AdPredictive. "We can start to recover large parts of that lost value by realigning audiences and media while also optimizing the saturation."
Using the AdPredictive Intelligence Manager, planners and analysts are able to review historical campaign trends while also diving deep into audience behaviors and media habits across a vast centralized data lake. The unique combinations of data from more than 31 partners united with AdPredictive tracking and (where available) first-party attribution data – gives brands, agencies and media companies the opportunity to optimize with unprecedented precision.
"Leveraging those insights, we can design campaigns that saturate audiences efficiently across all media types," said Andi. "We begin with the most cost-effective opportunity – which typically ends up being linear TV – and optimize for high-impact engagements there. Then, we're able to invest in other more expensive media types for reinforcement and additional conversions – but only at the cost that is truly needed to be impactful."
With a recent campaign, AdPredictive revealed that the brand was exposing ads to core audience targets 6-8 times within a 6-day period on a single network within their buy. Generally, effective saturation totals 3-5 exposures.
Across TV, digital and social – another brand showed similar results. The brand was exposing audiences 38-55 times within a quarter resulting in an inflated $200-300 cost per conversion.
Inflation in conversion cost and ad oversaturation are both entirely avoidable – but require a unique combination of tools connecting various data points and highlighting optimization opportunities. Andi and the data team at AdPredictive are committed to making it simple for brands to access exactly that.
Contact the team to learn more about the AdPredictive Intelligence Manager today.